World Book Day!
World Book Day!
6 March 2020 (by administrator)
A brilliant day with lots of book based activities and some excellent costumes!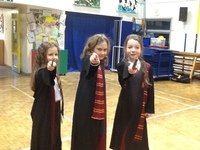 We all had a brilliant day yesterday celebrating World Book Day. It was great to see the children & staff dressed up as some of their favourite characters, and there was a real enthusiasm and lovely atmosphere throughout school. During the week, many classes have visited Evesham Library, Teachers swapped classes to share a story, and pupils from different classes have got together to read.